'Return to fitness' programme
If you'd like to get more active and try a variety of exercise classes with like-minded women, sign up for our 'return to fitness' programme.
We'll be organising a number of 10-week programmes, involving one exercise session per week, at various locations in Cambridge. No previous fitness experience is required or expected.
We'll publish the start date and location of each series of sessions here when they are confirmed. You can also follow @getmovingcam on Facebook to see more of what we offer.
Contact us if you want to express an interest in a future programme.
Let's Go Girls Fitness Festivals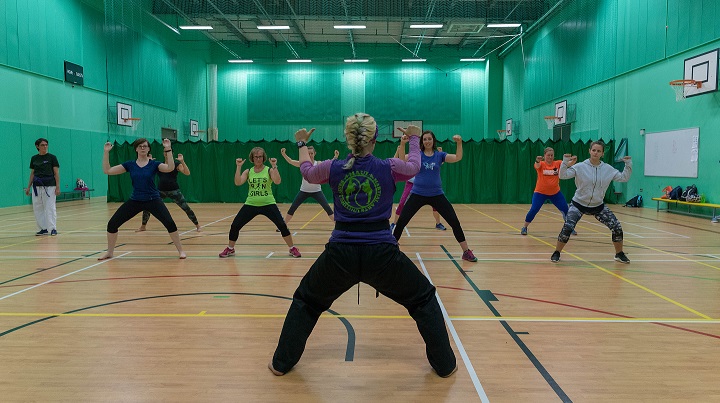 The Let's Go Girls Festivals are a great opportunity for women and girls age 16+ to try a wide variety of fitness and sporting activities in a fun, social and non-competitive environment.
Hills Road Let's Go Girls Festival
Wednesday 10 July 2019, 6pm – 9pm
Hills Road Sport & Tennis Centre, Purbeck Road, CB2 8PF
FREE to attend
Tickets available soon
Activities
Running
Our running page lists running activities, including women's only.
Football
Kinnerz Coaching run weekly community football sessions for women and girls aged 13 + years:
Wednesdays, 6.30-7.30pm
Chesterton Sports Centre, outside on the Astroturf
Suitable for beginners
For more details, visit the Kinnerz Coaching website
Martial arts
Martial Arts Uniting Lives offers women traditional Tae Kwon-Do sessions.
Tuesdays and Fridays, 7.40 to 8.40pm at Queen Edith's Primary School
Try out some new moves or get back into the swing of things in a friendly and safe environment. The curtains will be closed and the doors covered for a bit of privacy.
Netball
Chesterton
'Netball Nights at Chesterton' are great for those who want to try netball for the first time, or who haven't played since school and want to get back into the sport.
Come and join this fun, friendly group for some fitness, ball drills and match play.
Thursdays, 7 to 8pm from 25 April to 25 July
£2 per session, or £20 for all 14 sessions
All ages 16+ welcome
Follow Netball Nights on Facebook
Swimming
Ladies swim and tone class
At these sessions, blinds to the pool windows are pulled down with no visibility to the pool from members of the public. Led by a qualified instructor.
Chesterton Sports Centre, Gilbert Road, CB4 3NY
Thursdays, 11.10 to 11.55am
£4 per session (Free for Everyone Health Weight Management membership holders)
Booking essential either online or by calling Chesterton Sports Centre
01223 576110
Ladies night at the Abbey
Abbey Leisure Complex, Whitehill Road, CB5 8NT

Ladies-only swim session

Female lifeguard where possible

Fridays 7.30 - 8.30pm

There will be a swimming instructor on poolside to share tips and guidance on the first Friday of the month 

£4.70 per person for non-members

£3.40 with a Better card

£2.35 with a concessionary Better card
Gymnastics
Fridays, 9.15 to 10.15am
Cambridge Gymnastics Academy, North Cambridge Academy, Arbury Road
For more information, visit the Cambridge Gymnastics website