If you have a temporary or permanent mobility problem, we can lend you a scooter or wheelchair to help you visit the city centre. This is a free service, but you must register before you can use it.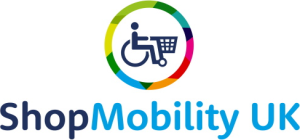 We are members of the national Shopmobility UK scheme.
Please contact us before coming to a Shopmobility office to borrow equipment. We'll arrange a 10-minute appointment at a convenient time. This will help us maintain social distancing in our offices.
We're looking for volunteers to help at our Shopmobility offices. Scroll down to find out more if you're interested.
You can borrow a mobility aid from:
Both offices are open at the following times:
Monday: 9.30am to 6.30pm

Tuesday: 9.30am to 6.30pm

Wednesday: 9.30am to 7pm

Thursday: 9.30am to 6.30pm

Friday: 9.30am to 6.30pm

Saturday: 9.30am to 7pm

Sunday: 11am to 4pm
If you drive in to borrow a scooter you can park free of charge for up to the first three hours of your stay. This also applies to your driver if you are given a lift to the car park.
If you stay longer than three hours you must pay that day's tariff for the length of your stay, from the end of the free period. We explain this process when you register with the scheme. You can claim three free hours once per day, whenever the Shopmobility offices are open.
If you use Dial-a-Ride, we can meet you at Market Square or Grafton East car park.
You must return all equipment to the office you borrowed it from by the closing time.
When you borrow a mobility aid, you are free to travel around the city centre. Please stay inside the boundary formed by Queen's Road, Fen Causeway, Lensfield Road, Gonville Place, East Road, Elizabeth Way, Chesterton Road, and Northampton Street.
During cold weather we'll ask you to stay inside the shopping centres, for safety reasons.
Register
Before you can borrow a mobility aid:
we will show you how to use the scooter or electric wheelchair and ensure that you are happy and competent to use it

you will need to complete a simple insurance form 
To register for a mobility aid, please contact us to request an appointment. Appointments are available from Monday to Friday.
Please note we may not be able to register you if you come to the office without an appointment.
Complete the Shopmobility registration form [DOCX, 72Kb] and send via email at shopmobility@cambridge.gov.uk or bring it with you to your appointment.
You'll need to bring your passport or driver's licence and a recent utility bill or bank statement.
Please let us know as soon as possible if you can't make it to your appointment, so we can give the time to somebody else.
Accessible rest room
The Grand Arcade office has a Changing Places toilet and accessible rest room. It contains a toilet, shower, hoist and changing bed.
The key to the room is available from the car park customer service office. The office is open from 8am to 8pm every day, except for 10am to 5pm on Sundays.
Volunteer at the Shopmobility office
We're looking for people to help us in the Shopmobility offices at the Grafton East and Grand Arcade car parks.
If you're interested, read the job description [PDF, 0.1MB] to find out what the role involves and what skills and experience you will ideally have.
To find out more or express your interest in volunteering, contact us at carparks@cambridge.gov.uk or on 01223 457337.