A very large block of common land near the heart of Cambridge, split in two by the Cambridge-Ipswich railway line. The largest section of the common has a diverse range of habitats which support active and passive recreation.
six full size football pitches
two junior football pitches
one Gaelic football pitch
one American football pitch
play area
Much of the common is close-mown and there is an artificial pitch used for a range of sports including football and hockey. All pitches can be hired through Abbey Pool which is situated on north west side of the common.
The play area for older children is by Abbey Pool and has a skate runway, ball court and swings.
Surrounding the artificial pitch is one of the naturally grazed areas, on the other side of the railway, beyond the football pitches to the east, known as the Rifle Butts. This area supports grazing and is a large campsite for the Cambridge Folk Festival in the last week of July and the first week in August.
A pedestrian underpass on the west end of the common, near the artificial pitch, takes you under the railway line to another section of naturally grazed common which aligns Coldham's Lane.
Classed as a Local Nature Reserve, some areas of the common are managed to encourage an increase in natural diversity and is intended to remain fairly wild in order to preserve a wildlife corridor across the city.
Coldham's FitStop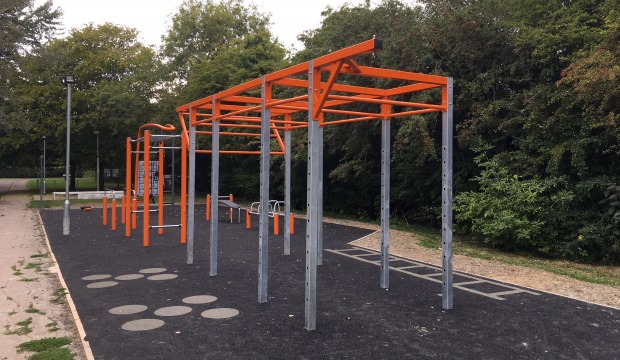 Outdoor functional fitness equipment located outside Abbey Pool by Coldham's Common
Free to use for all, you do not need to be a gym member
There are helpful images to show you what exercises you could do on each piece of equipment
Download the Kompan app for Android or iOS to see video guides of how to use the equipment
Report a fault or share your feedback about the equipment – email sport@cambridge.gov.uk