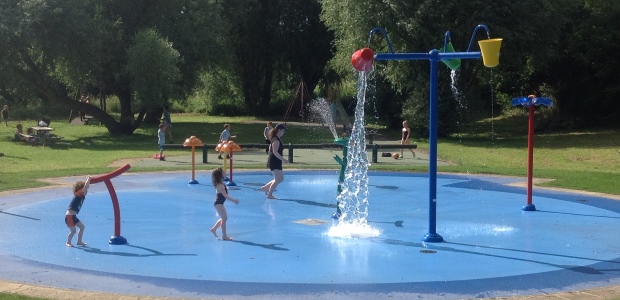 Our splashpads are closed for the summer.
Our splashpads are maintained by GLL. We suggest that you call 01223 446100 ahead of your visit to ensure they are all operational.
The Abbey splashpad can be found behind Abbey pool – follow the path from the car park round to the back of the pool. It consists of 11 water features, including tipping buckets, water cannons, and spray jets.
The Coleridge splashpad is on Coleridge recreation ground, near the play area. The most convenient entrance is on Davy Road. The splashpad consists of 14 water features. Features include a tractor-themed play piece with interactive panels, crawling tube and numerous water features. There is also a two-foot-deep paddling pool.
The King's Hedges splashpad is on the 'Pulley' play area on King's Hedges recreation ground – follow the path from the car park in Jedburgh Court round to the front of the learner pool. There are 14 water features in an outerspace theme.