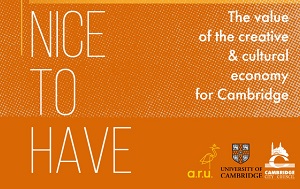 The Cambridge Arts Network (CAN) annual conference on Wednesday 22 February will focus on how creativity and culture are more than 'nice to have'; they are powerful tools to benefit Cambridge's residents and visitors.
Taking place at Anglia Ruskin University, the day will run from 9am to 5pm, with tickets costing £10. Creative, community and businesses representatives are invited to register now.
There will be a series of talks on the positive impact that creativity and culture can have in Cambridge, with a line-up of 40 speakers from the arts, events, attractions, further and higher education, skills development, and business.
The keynote address – The Thinking City – will be delivered by Idrees Rasouli from Cambridge School of Art. Other sessions include:
Creative influence on skills and careers
How culture plays a part in putting Cambridge on the map
Can we learn from the imaginings of the past to imagine the Cambridge of the future?
Creativity and culture meet technology – what opportunities might we be missing?
The role of heritage in the understanding of others' lives and perspectives
Setting out a pathway to creative industries for young people, and much more.
The conference is being produced by Cambridge Arts Network in association with Anglia Ruskin University and the University of Cambridge.
Cambridge Arts Network is a forum of people and organisations delivering arts and culture in and around Cambridge, coordinated and administered by Cambridge City Council.
Cllr Alex Collis, Executive Councillor for Open Spaces, Food Justice and Community Development, said: "I am pleased that CAN are exploring how creative cultural providers bring benefit to Cambridge, complementing and supporting the ongoing work to challenge issues such as inequality, access and recovery of the economy.
"Cambridge's cultural offer can inspire pride in our communities and put Cambridge on the map, as well as creating new opportunities for local businesses and residents – so it's great to have this annual event for contributors to network and spark new ideas to benefit Cambridge. Please come along to support and contribute to Cambridge's culture and creativity."