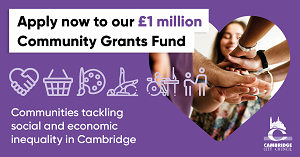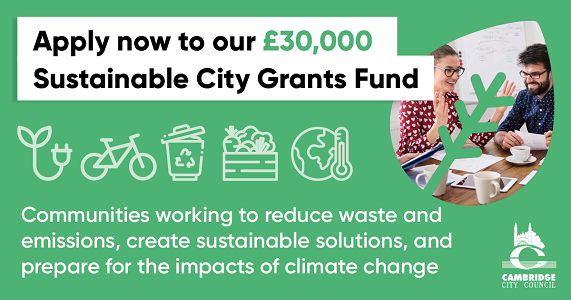 THE deadline to apply for funding from Cambridge City Council for projects to prevent homelessness, reduce social or economic inequality, or support the council's climate change objectives is 12 noon on Monday 3 October.
£300,000 is available for projects that will reduce the levels of homelessness and rough sleeping in Cambridge. Applicants to the Homelessness Prevention Fund could consider how people who would otherwise have become homeless will be prevented from becoming so as a result of the project; or how people who are already homeless can be assisted into accommodation. The council is inviting community or voluntary groups to propose bold, imaginative, evidence-based solutions to complement the work already being done by organisations across the city.
£1 million is available for community and voluntary groups wishing to tackle social and/or economic inequality. To be eligible for the Community Grant Fund, activities need to support the council's commitment to furthering social and economic equality across the city. The types of activities that could be eligible include helping people to be more active; widening access to arts and culture; bringing communities together; reducing poverty; or reducing social isolation and loneliness.
£30,000 is available for community activities that will reduce carbon emissions and waste, increase the use of sustainable transport and access to sustainable food, and improve preparedness and resilience to the impacts of climate change.
Each fund has detailed eligibility criteria, and funding must be used for activities that will take place between 1 April 2023 and 31 March 2024. Awards will be considered by councillors in January and are subject to the council's budget being approved at the full council meeting in February. Successful applicants will be paid grants from 1 April 2023.
Cllr Gerri Bird, Executive Councillor for Housing, said: "Our homelessness prevention grants are there to do just that: support projects that will prevent people from becoming homeless, or help them to quickly find a home if they are already homeless. The council already does a great deal to prevent and relieve homelessness, and we support a range of local organisations and agencies providing excellent services. But we're sure that there are local groups out there with bold new ideas that need a little money to help get started. If that sounds like your group we want to hear from you."
Cllr Mairéad Healy, Executive Councillor for Equalities, Anti-Poverty and Wellbeing, said: "I'm pleased that we are able to make funding available through the Community Grants Fund for activities that will work towards tackling the inequality that we know exists across the city. We've introduced a Small Grants element with a streamlined online application form – new for 2022 – which we hope will encourage applications from new groups and those who might have felt the application process was too difficult in the past."
Cllr Rosy Moore, Executive Councillor for Environment, Climate Change and Biodiversity, said: "Local community groups in Cambridge do a great deal to address climate change, raise awareness and make it easier for all of us to play our part in cutting carbon emissions. We've seen some brilliant projects over the past year – from Repair Cafes to campaigns to encourage sustainable fashion, and energy saving workshops to community farming activities producing sustainably grown food. If you've got an existing project or a new idea that will help us achieve our climate and environment goals for Cambridge, please get in touch."
Further information on all three funds is available online. Alternatively potential applicants are encouraged to email grants@cambridge.gov.uk for further information or guidance.