We encourage families to be active together.
Research from Sport England tells us that families play a key role in shaping children's attitudes and behaviours towards physical activity and sport. This is especially true of parents and carers.
We provide informal opportunities for physical activity and sport on Cambridge's many parks and in leisure facilities.
There are also plenty of other organisations providing sport and leisure activities that families can use together.
Love Exploring Adventure Trails
Take a visit to Cherry Hinton Hall, Coldham's Common, Jesus Green, Lamas Land/Sheeps Green, The Pulley (Kings Hedges) and Trumpington Meadows Country Park. To discover a number of different adventure trails through the new augmented reality app, Love Exploring.
As well as augmented trails with dinosaurs, tree fairies and planets, mini beasts are also now available.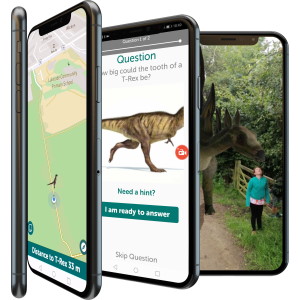 You'll need to download the free Love Exploring app to your phone and search for Cambridge – then be amazed as dinosaurs, planets or fairies appear in front of you!
There is also a tree trail, a mindfulness trail and a sensory trail to choose from too at Cherry Hinton Hall.
All of the trails are suitable for anybody aged 4 to 104, and you can enjoy them at any time.
Families Moving Courses
All these activity courses are facilitated by qualified coaches, and we encourage all members of the family to take part together. Minimum booking is 1 adult and 1 child, and you must attend all course dates.
Glow Dance Fitness
This four-week course offers an opportunity for families to take part in a fun, dance fitness class using glow sticks.
9, 16, 23 and 31 January
Mondays, 6.15 to 7pm
Family tickets (1 adult and 1 child) are £4 for all four dates
For more information and how to book please visit Bookwhen.
All these course activities are funded by County Council's Public Health team.
Subscribe to our monthly newsletter to receive regular updates about upcoming Families Moving Courses.
Other family activities