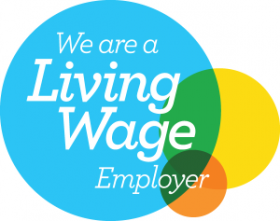 The Real Living Wage enables a person to have a minimum acceptable standard of living with less reliance on benefits, and is calculated annually according to the cost of living in the UK. The Real Living Wage is currently £8.75 per hour.
This year's Living Wage Week will be celebrated between Sunday 4 and Saturday 10 November. During the week the new real Living Wage rates for London and the UK will be announced.
The Real Living Wage rate applied to everyone over age 18, and is £8.75 for the UK and the London rate is £10.20. By comparison, the national living wage is calculated as a percentage of median income so is not as generous, and does not reflect living costs. For over 25 year-olds the national living wage rate is £7.50.
Cambridge City Council pays the Living Wage to all directly employed staff, as well as to agency workers.  We also commit to paying the Living Wage to all contracted staff engaged through our procurement processes. In November 2014 the city council received official accreditation from the Living Wage Foundation.
We are now working to encourage and support other businesses in Cambridge to become accredited Living Wage employers. 
The number of accredited Living Wage employers in Cambridge has increased to 57.
Benefits of the Living Wage
We believe that the Living Wage is:
Good for business
Reduction in staff turnover and sickness rates
Less absenteeism
Improved staff morale and productivity
Better retention of staff
Recruitment of committed staff
Reputation as an ethical employer
Good for the worker
Workers are able to provide properly for themselves and their family
They are less reliant on benefits
They don't have to work excessive hours
They have more time for their family
Good for Cambridge
More money is spent locally
Cambridge has a high-quality, better paid workforce
Get help with becoming a Living Wage employer
Are you based in Cambridge? Are you interested in becoming a Living Wage employer?
Our Equality and Anti-poverty Officer, Helen Crowther can:
answer your general queries about the Living Wage
identify particular benefits accreditation might have for your business
support you in applying for accreditation
help you to work through the implications of applying the Living Wage to contracted and subcontracted staff
News
The punting company Rutherford's is the latest employer in Cambridge to become Living Wage accredited.
Cambridge Women's Aid became an accredited employer in May.
HiTeam, a web consultancy firm, became accredited in February.
You can see all accredited employers in Cambridge on the Living Wage Foundation's employer map.
National Minimum Wage
A new National Minimum Wage rate of £7.50 per hour applies for workers aged over 25.  The government has called this a "national living wage" but it is quite separate from the Living Wage of £8.75 per hour accredited by the Living Wage Foundation.  £7.50 is the legal minimum for over 25s, but the £8.75 Living Wage is calculated according to the cost of living - what people need for an acceptable, basic standard of living.  It's a rate which employers choose to pay voluntarily to go beyond the statutory minimum.
Case study
Abbeyfield care provider supports the Living Wage.
Living Wage employers in Cambridge
The complete list of Cambridge organisations who are accredited Living Wage employers:
Guidance for employees
Do you have questions on how your change in income will impact on your benefits? Do you want support in budgeting?  Do you have problems with your pay? If you would like help with any of these questions, contact Cambridge & District Citizens Advice Bureau. Phone 03448 487979 between 2 and 4pm, Monday to Friday.