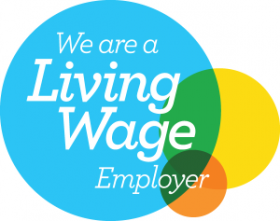 The Real Living Wage is the only wage independently calculated to meet what workers and their families need to meet costs of living.
It is a voluntary rate of pay for employers that is calculated annually by the Resolution Foundation based on the best available data on living standards in the UK.
The Real Living Wage is currently £12 per hour.
Living Wage Week 2023 took place from 6 to 12 November. It is an annual celebration of the Real Living Wage movement. For further information about the week and how you can get involved, visit the Living Wage Foundation's website. We marked the week by displaying posters around the city and including information in local publications.

Cambridge City Council pays the Real Living Wage to all directly employed staff, as well as to agency workers. We also commit to paying the Real Living Wage to all contracted staff engaged through our procurement processes. In November 2014 the city council received official accreditation from the Living Wage Foundation.
We are now working to encourage and support other businesses in Cambridge to become accredited Real Living Wage employers. 
About 75 accredited employers have their head offices in Cambridge or are an independent business in the city. Many more national employers have local branches. These are included in the list below of accredited organisations operating in Cambridge.
Case study: Abbeyfield care provider supports the Real Living Wage.
Benefits of the Real Living Wage
We believe that the Real Living Wage is:
Good for business
reduction in staff turnover and sickness rates
less absenteeism
improved staff morale and productivity
better retention of staff
recruitment of committed staff
reputation as an ethical employer
Good for the worker
workers are able to provide properly for themselves and their family
they are less reliant on benefits
they don't have to work excessive hours
they have more time for their family
Good for Cambridge
more money is spent locally
cambridge has a high-quality, better paid workforce
Get help with becoming a Real Living Wage employer
Are you based in Cambridge? Are you interested in becoming a Real Living Wage employer?
Our Equality and Anti-poverty Officer can:
answer your general queries about the Real Living Wage
identify particular benefits accreditation might have for your business
support you in applying for accreditation
help you to work through the implications of applying the Real Living Wage to contracted and subcontracted staff
National Living Wage
In April 2016 the government introduced a higher statutory minimum wage rate for all staff over 25 years of age called the 'national living wage'. In 2021, this was lowered to over-23 year olds.
The government intends the higher minimum wage rate for over-23s to reach 66% of median earnings by 2024. Current estimates suggest this would mean a rise to £10.50 per hour by 2024.

The government's minimum wage rate is separate to the Real Living Wage rate calculated by the Living Wage Foundation. The Real Living Wage is independently calculated according to the cost of living – what people need for an acceptable, basic standard of living. It's a rate that employers choose to pay voluntarily to go beyond the statutory minimum.
The Real Living Wage is currently £12 per hour across the UK and £13.15 in London.
Guidance for employees
Do you have questions on how your change in income will impact on your benefits? Do you want support in budgeting? Do you have problems with your pay? If you would like help with any of these questions, contact Cambridge and District Citizens Advice Bureau. Phone 03448 487979 between 2 and 4pm, Monday to Friday.
Real Living Wage employers in the Greater Cambridge area
There are around 90 organisations who are based or operate in the Greater Cambridge area that are accredited Real Living wage employers.
You can see all accredited employers in Cambridge on the Living Wage Foundation's employer map.
5th Studio Ltd
Abbey People CIO
A-Plant
Argyle Street Housing Cooperative
BDB Pitmans LLP
Brewdog
Cambridge Economic Associates Limited

Christine Marie Ltd

Globe Scaffolding (Cambridge) Limited
Halifax
Lifecraft
Nanna Mexico
Nara Nurseries Limited
NatWest
Origami Energy Limited
Oxwash

Patacake Nursery

Pelle Pub Company LLP
Pennington's Manches and Cooper LLP

Safe Soulmates

Seesaw Preschool CIO

St Andrew's Centre Café, Histon
St James's Place Wealth Management
St Laurence Catholic Primary School
The Cambridge Building Society
The Memorial Unitarian Church, Cambridge
The Portland Arms LLP