Hackney carriage
A 'hackney carriage' vehicle can be hired from a taxi rank or be hailed in the street.
All Cambridge taxis have a crest on the side bearing the words 'Cambridge hackney carriage', a blue identification plate on the rear and have a 'Cambridge Licensed taxi' yellow sign on top of the vehicle.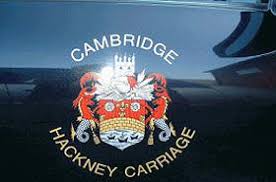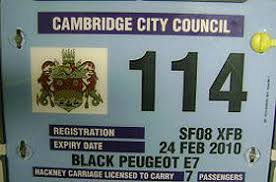 They are the only vehicles licensed and insured in the city for on the spot hiring.
All journeys within the city in hackney carriages must be charged on the meter.
Inside the vehicle there will be a meter, valid fare charts and the drivers' identification badge with name, number and expiry date.
Hackney carriage fares
Maximum rate of charges:
Fares are calculated on a combination of distance or time or parts thereof.
The meter must only be switched on when passengers are safely in the vehicle and the journey is about to start.
All journeys taken in hackney carriages within the Cambridge city boundary must be charged on the meter; this is the maximum legal fare.
For an initial 90 metres or part thereof:
7am to 7pm: £3.30
7pm to 7am, Sundays and bank holidays: £4.40
7pm on Christmas Eve to 7am on Boxing Day, and 7pm on New Year's Eve to 7am on New Year's Day: £5.40
For each subsequent 175 yards (160 metres) or part thereof: 20p
For each period of 39 seconds spent motionless or travelling slower than 16.79km/h or part thereof: 20p
Extra charges
For each journey with five or more passengers: £3.50
Bicycles not able to be put in the luggage compartment of the vehicle: £1.50
Fuel surcharge (see note below): 40p
If the vehicle is left unfit to continue working: £100
All hackney carriage vehicles can now charge the extra fuel charge of 40p, as stated in the fare chart.

The extra fuel charge is applied when the national retail price of diesel, as published by the Department for Business, Energy and Industrial Strategy, exceeds 179.9p per litre. It is removed when they advise that it no longer exceeds that amount.
Exclusions: The Taxicard scheme
Any fare calculated in accordance with these fares may be subject to any concession scheme approved by us, provided the driver vehicle is a participant in such a scheme and the passenger has provided any necessary proof of entitlement to the benefit of such a scheme to the satisfaction of the driver.
Private hire
Private hire vehicles are licensed by us for prebooked work only.
The fares are set by the company's meter or quoted in advance.
Trying to hire this type of vehicle on the street is illegal and you will not be insured for your journey.
These vehicles do not have a taxi sign or crest on the side but have front and rear green identification plates and must bear a company door signs showing 'private hire - pre booked only'.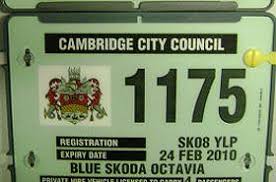 Private Hire Operators may set their own fares but if a meter is used, the fare chart must be displayed in each vehicle so that it is easily visible to all hirers.
All drivers are required to wear an identification badge with name, number and expiry date.
Wheelchair accessible taxis and Private Hire Vehicles
Section 167 of the Equality Act 2010 requires Local Licensing Authorities to maintain and publish a list of designated wheelchair accessible taxis and Private Hire Vehicles.
This list is supplied in accordance with Section 167 of the Equality Act 2010:
Complaints
If you wish to make a complaint or have any concerns regarding a hackney carriage or private hire vehicle or driver, visit our complaints page.