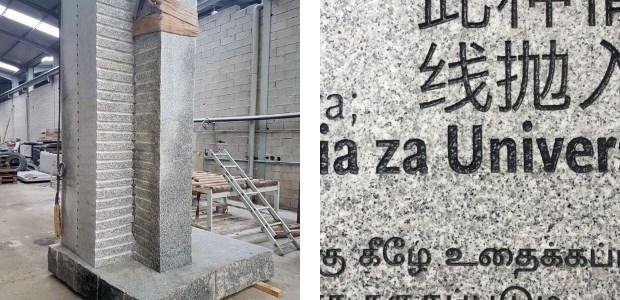 Photos: Work in progress on the Cambridge Rules sculpture
In 1848 a group of University students agreed on a single set of rules by which to play football on Parker's Piece.
These 11 rules were the first rules for football in the modern era. They were almost entirely adopted by the Football Association when drafting the FA rules in 1863. You could say that Parker's Piece itself is the birthplace of football as we know it.
Artists Alan Ward and Neville Gabie are marking this historical moment with a large stone cut into nine parts. Each segment is engraved with the original 1848 laws of the game in different languages.
Four pieces will remain as a permanent marker on Parker's Piece. The others will travel to five football-loving countries in a cultural exchange. They will highlight the global significance of the first rules, 'twinning' Cambridge with the football world.
Football fans can upload their favourite football songs or chants, and images of memorabilia and their local pitches to the project website.