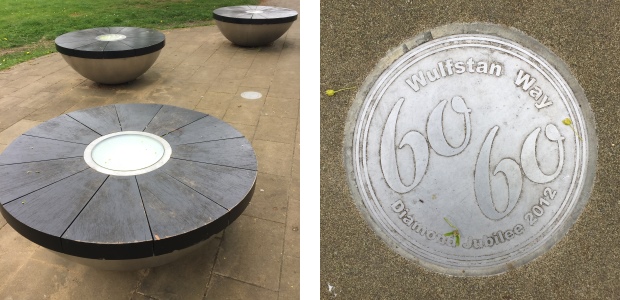 Location: Wulfstan Way local centre, CB1 8QD
Artist: Zoë Chamberlain
Format: Seats
Materials: Stainless steel and timber
60/60 is an artwork that takes the form of three hemispherical seats arranged within the space at the Wulfstan Way local centre.
As well as installing the seats, the project encompassed a programme of events and activities. These encouraged different generations from the Wulfstan Way neighbourhood to share and celebrate local stories and social history from the last 60 years.
Each seat has a glowing core to represent the heart of the community. Each also has varying sizes of segmented slats to represent the passage of time and variation of the changing neighbourhood. The work explores the perceptions of that change from the different generations.
The artwork was inspired by 1950s design ethics. It was developed with a group of local young people.