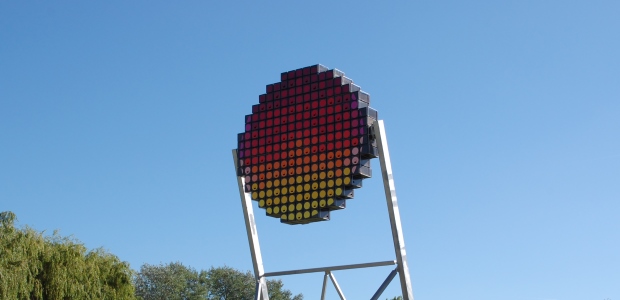 Location: Logan's Meadow local nature reserve
Artist: Andrew Merritt
Format: Swift tower
Dimensions: 10×4×4 metres
Materials: Steel and timber
Swift Code was commissioned as part of a plan to create a wetland habitat in Logan's Meadow local nature reserve.
We asked artist Andrew Merritt to design a structure that would attract swifts to nest here in summer. He worked work with our Biodiversity Projects Officer and local volunteer swift experts.
"Swifts are a species of bird that travel up from central Africa to Europe every year following the sun, rain and the insects that these bring. They start to arrive in the UK in May and as such people associate them with the coming of summer. Swift numbers in the UK have been steadily decreasing and a lack of nesting sites has been attributed as one possible cause. The sculpture aims to provide a home for up to 150 swifts." – Andrew Merritt
The design is based on a pixelated African sunset. This work of public art is animated by the birds flying at high speeds into their nesting boxes.
Since installing the tower, we have played swift calls to attract young returning birds to nest. The tower has had lots of prospecting birds – at least three pairs are now established, and the colony should continue to grow.