Locations
We have 17 charge points located, across the city, with each charge point having the ability to charge more than one vehicle at a time. Further locations are planned.
We will update the page as new charge points become available.
A map of the locations of the charge points can be found on the Swarco website. This also provides live information about which charge points are in use and which are available.
Types of charge points
A rapid charge point is rated up to 50kW. These charge points come with two rapid 50kW DC connections, one suitable for a CCS connection and one for a CHAdeMO connection.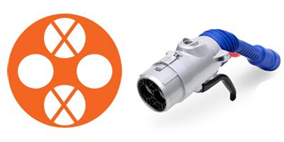 CHAdeMO 25-100kW DC
  CCS 50-350kW DC
Rapid charge points also include a Type 2 connection which can charge up to 22kW.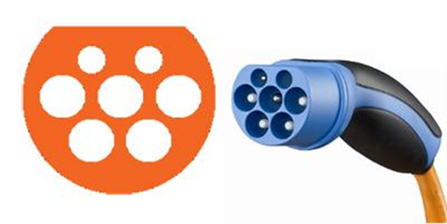 Type 2 43 kW AC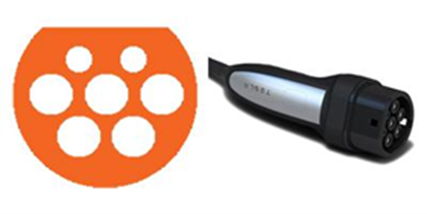 Tesla Type 2 120-250 kW DC
The fast charge points are rated up to 22kW and come with two Type 2 connections.
For all charge points you can charge up to two vehicles at the same time by using different connections. If two vehicles are charging at the same time this may reduce the power output of the charge point with the power shared between the two vehicles.
Time restrictions
You are able to leave the vehicle for up to 1 hour on charge at all sites.
At Parkside there is no time restriction. Please be aware that other drivers may wish to use the space to charge their vehicle, so try to keep to a maximum of 1 hour charging time where possible.
There are dedicated taxi only charging bays at all locations. Some locations have a combination of dedicated taxi bays and general use electric vehicle bays. The general use electric vehicle bays can be used by any member of the public with an electric vehicle and taxis.
The taxi only bays can only be used by taxis, this includes any hackney carriages and private hire vehicles. There is signage to identify which bay is which and the restrictions in place.
If you witness a vehicle that is not eligible to use a bay according to the signage, or it is exceeding the time limit at that bay, please contact Cambridgeshire County Council Parking Control on 01223 727 915.

They are responsible for the enforcement of parking restrictions.
Using the charge points
Details about how to use the charge points and how to pay are available on the Swarco website. Swarco administers the charge points on behalf of Cambridge City Council.
The website details various methods for payment including an app which can be downloaded onto your phone; however, all charge points include contactless payment devices.
It also provides a map showing the locations of the charge points, in Cambridge, available for taxi drivers and provides real time information on the availability of the charge points at each location.
We highly recommend you download and use the app as this enables you to see easily which charge points are available to use and at what capacity.

This will ensure that you are not driving around looking for an available charge point and will therefore minimise downtime.
Please note that even if one charge point is in use, a second vehicle can be charged from that unit with a different connector although it may not be at the highest capacity charge rate.
Occasionally there maybe be a temporary loss of data connection or the charger maybe undergoing a software update. This usually takes no more than a few minutes so you may like to wait for this to take place; or use the app to find an operational charger.
Sometimes a reset button on the right of the charge point has been pressed in error. Twisting the button to release it may activate the charge point.
If you have any other issues using the charge point, then please raise an enquiry with Swarco directly. When reporting any issues with the charge points please reference the charge point number to assist with the enquiry.
These typically start with SEC. For example, Station Road is SEC50275.