Bins and bags in a variety of sizes are available to suit all your needs.
Charges are based on the size of the bin and the frequency of collections, with much reduced rates for recyclable materials.
To discuss the service that will best meet your needs and budget, contact our Commercial Waste service:
Cambridge City and South Cambridgeshire District Councils have merged their commercial and domestic waste services in order to better serve the businesses and residents of the two authorities with an efficient, high quality service.

All waste producing businesses in the UK are subject to environmental good practice laws, known as the duty of care. You can read a simple guide to your responsibilities on the Right Waste, Right Place website, and more information about the law can be found at the bottom of this page.
Mixed recycling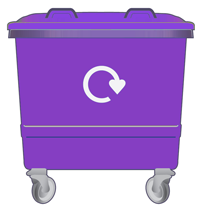 We collect mixed recycling, which includes:
food tins, drinks cans and aerosols
paper and cardboard   
plastic bottles, pots, tubs and trays
glass bottles and jars   
cartons   
plastic bags, clean film and wrapping
If bin storage is a problem, we can discuss providing a smaller mixed recycling bin, reducing the size of your general waste bin or providing purple sacks.

This business recycling poster [PDF, 2MB] shows what can go in the mixed recycling bin. Download and print to show your staff.
Food waste recycling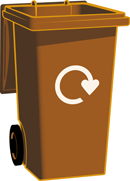 Join the Cambridge Sustainable Food Network Business Pledge scheme! Come to the launch event on Thursday 2nd March in the Cormack Room in the University Centre on Granta Place. 3 - 5 pm in the afternoon.
See this for more info:
https://www.cambridgesustainablefood.org/get-involved/businesses/

We can collect your food waste on as many days a week as you need.  This food waste recycling poster  [PDF, 276KB]shows what can go in.
Taking action on waste
The Waste and Resources Action Programme (WRAP) has produced a series of information sheets to support businesses in the Hospitality and Food Service sector in taking action on waste.  The information sheets provide simple, effective guidance for wasting less, recycling more and saving money.

While we can dispose of your food waste in an environmentally friendly way – to help you close the loop of supply and waste – we also encourage Cambridge kitchens and businesses to think in as wholesome and sustainable a manner as possible. To this end we ask you to pledge to make your business a leader in its neighbourhood in any one or more of a variety of worthy options.
How your business benefits by recycling
saving money on waste collections   
ensuring compliance with the pre-treatment of waste regulation   
reducing your carbon footprint  
helping you to achieve ISO accreditation   
appearing as a corporate socially responsible businesses eg environmentally friendly
General waste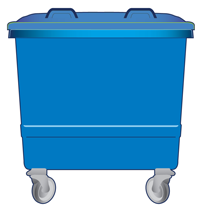 General waste is collected in blue bins. Most non-recyclable commercial waste can be put into these bins, with the exception of heavy or dangerous substances such as rubble, clinical or electrical waste.

If storage is a problem, we can discuss the possibility of using blue commercial waste bags.
Additional commercial waste
If required, an additional collection of trade waste can be arranged for our customers. Excess waste will not be removed without prior arrangement.

If you would like a review of your collections, a visit can be arranged by our after-sales coordinator at your convenience.
Skips
We can provide large link tips that measure 13 cubic metres. These can be delivered and removed for a charge of £160.
Our policies
Our Commercial Waste Service aims to meet strategic targets and works to continually improve the customer's experience.
Terms and conditions
Legislation
The National Duty of Care requires all businesses, whatever size, to take all reasonable steps to keep waste secure:
waste must be stored safely, securely and must not cause harm to people or pollution to the environment   
waste must be contained in a suitable container - waste cannot fall out, blow away or otherwise escape from the receptacle provided  
all businesses must ensure that the person or company removing waste is either a local authority or licensed waste carrier, and that the waste is being taken to a facility permitted by the Environment Agency
businesses must provide a written description of the waste to the person who removes it. This is a Controlled Waste Transfer Notice (CWTN), and must be completed by both persons involved in the transfer. This paperwork is provided free of charge for collections with Cambridge City Council.
It is illegal and a breach of the Duty of Care to:
take business waste to a household waste recycling centre, such as Milton or Thriplow
present business waste for collection by the domestic crew or outside of a CWTN
fly-tip waste
burn waste
Breaches of the Duty of Care can result in a Fixed Penalty Notice (FPN) or prosecution.

Please note that Business Rates do not cover the removal of waste from your business premises and the duty to organise effective waste collection rests with you, the business.
Legislation