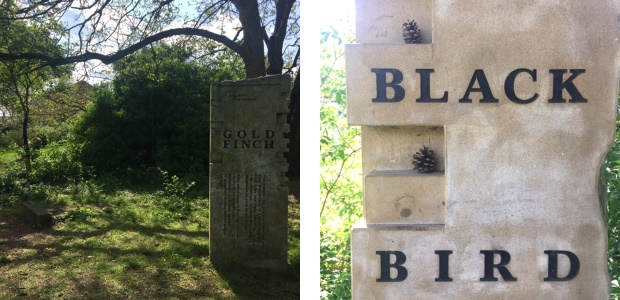 Location: Mill Road cemetery
Artist: Gordon Young
Format: Stone sculptures and a wooden seat
Materials: Stone
Over the years, Mill Road cemetery has become an important local green space for the communities that have built up around it. It has become a place of memory, beauty, and history, where people feel close to nature and can experience different seasons. A place that contrasts with its surroundings and where there is peace and, for many, a sense of comfort.
The primary and over-arching function for this art project has been to safeguard and promote these uses.
The work was inspired by the cemetery's bird life. Each of the sculptures celebrates a species and their location found within the space. Each work features bird poetry and a description of their calls. The aesthetic was given by designing the sculptures to function as perches, shelters, feeders and baths.
The sculptures are the result of extensive engagement work with the Friends of Mill Road Cemetery, the Trustees of the Cemetery, and the wider community. It is one of the triumphs of the proposed design that the artist's ideas seamlessly into the 'culture' of the cemetery.