Get the family active together this summer with our family bingo challenge. Work your way through nine different activities and win prizes along the way.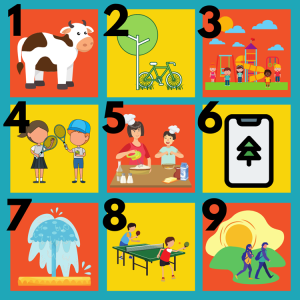 Go cow spotting – from 28 June until 4 September, a trail of 40 Cows about Cambridge sculptures will decorate the city. How many can you find?
Take a family bike ride­ – find a family-friendly cycling route and enjoy a ride together.
Take a trip to the playground – you can't beat a trip to your nearest park. It can be a great chance to get outside and take a screen break, for children and adults alike.
Play a game of tennis – challenge your family to a game at one of the 18 free-to-use tennis courts in parks around the city. You could also join our free family tennis sessions at North Cambridge Academy – find out more about our summer sport activities.
Make a healthy snack – get your snacks at the ready. Check out our easy-to-follow recipes ideas and get the whole family involved in preparing a tasty snack to enjoy when you're trying one of the other challenges!
Take on a smartphone mobile adventure game – download a free app and you'll be ready to try any of our our five Mobile Adventures activity trails. Take on the challenges and explore new parks and green spaces!
Make a splash – head to one of our swimming pools or splashpads for a refreshing dip. A great choice for a hot day – don't forget your suncream and hats!
Play a game of ping pong – table tennis is a great family activity, and there are more than 20 free-to-use tables around the city!
Go for a family walk – head out for at least a 30-minute walk together, and find out how well you know your neighbourhood.
Claim your prize
If you complete three activities we'll send your family a rosette prize. Complete all nine activities to win a garden game!
Send us a photo of your family taking part in at least one activity to claim your rosette, and photos of you in at least 4 activities to claim the game.
Send your photos to us by email or on Facebook or Instagram before the end of Sunday 5 September. Make sure to include your family name and address.
Prizes are available for Cambridge residents only and are subject to availability.